New Mexico Law Enforcement In-Service Requirements
In-service law enforcement training consists of at least forty (40) hours of academic instruction, approved by the Board, for each certified police officer during each twenty-four-month period of employment or service. The first training course shall commence no later than twelve months after graduation from an approved basic law enforcement training program.
All certified police officers shall provide proof of completing in-service law enforcement training requirements to the Director no later than March 1st of the year in which the requirements must be met.
In-service training reporting is due quarterly as required by §29-7-7.2 NMSA 1978. Agencies shall use approved NMLEAB forms for reporting purposes. Current approved reporting forms to report mandatory in-service training required by §10.29.7.8 NMAC and §10.29.7.9 NMAC, are:
LEA-83 : Firearms Scores Reporting Form
LEA-84 : Biennium Agency In-Service Training Report Law Enforcement Officer
LEA-84a : Biennium agency In-Service Training Report Public Safety Telecommunicator
Using the Acadis® Portal to View & Complete the LEA-84 to Report Current Agency Compliance for the Biennium
Utilizing the "Check Personnel Training Hours" should help you easily identify which officers need to be listed on the Exception Report (pages 2-4) of the LEA-84. You may print the Portal report to submit as supporting documentation for inclusion with your LEA-84 affidavit to supplement the Exception Report and to provide the form's requested List of Employees that the affidavit form certifies as having completed all required training.
If there is training that is missing from an individual officer on the Check Personnel Training Hours report, it will show where your agency will need to focus on reporting to make sure that the officer isn't listed as an exception and therefore in non-compliance.
REMINDER:
Training Category is CRITICAL for tracking eligible training, and only NMLEA accredited training (has valid NMLEA Accreditation Number) can be counted toward the additional/remaining required biennium hours.
Therefore, you should submit any training rosters by selecting "Mandatory Retraining (Biennium)" as the Training Category if a training submission has an NMLEA Accreditation Number, but is NOT one of the specific in-service training categories listed below:
Domestic Abuse
Child Abuse Incident
Ensuring Child Safety Upon Parental Arrest
Missing Persons and AMBER Alert
Tourniquet & Trauma Kit
Safe Pursuit Act
Detection, Investigation and Reporting of Hate Crimes
Firearms – (Not Handgun Requalification Scores)
Interactions with Persons with Mental Impairments
Legal Update
DWI/SFST Update or A.R.I.D.E. – only for officers who may be involved in the arrest of DWI offenders.
How To: Using the "Check Personnel Training Hours" page to view employee training hours per biennium category
1. To view the number of hours that your agency's employees have completed within a given timeframe, hover over the Personnel tab at the top of your Acadis® Portal (Shown below) and select the "Check Personnel Training Hours" page. This page will break down the completed training hours by biennium training category.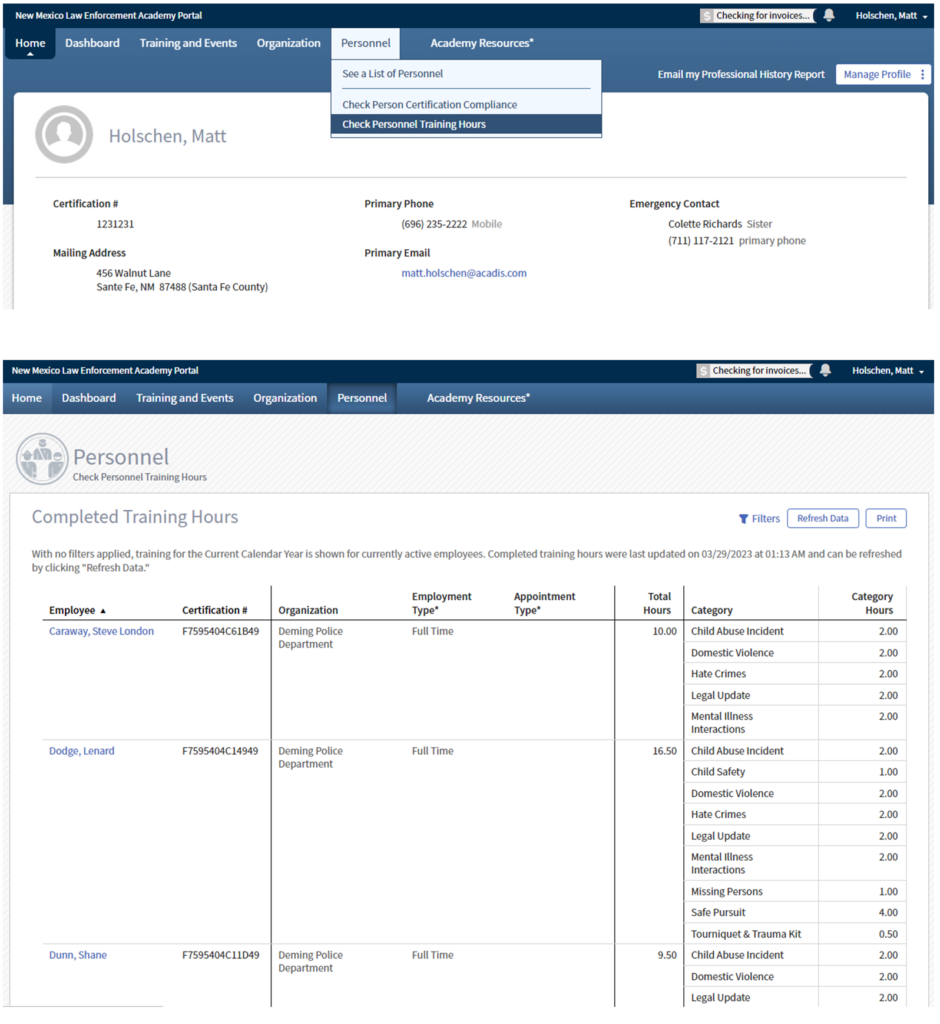 2. By default, this page will show completed training hours for only the Current Calendar Year. By clicking the "Filters" button at the top-right of the page, specific date ranges for the completed training can be applied. Below, you see the ability to customize the date range to filter for a single year of the biennium or filter to view the entire biennium.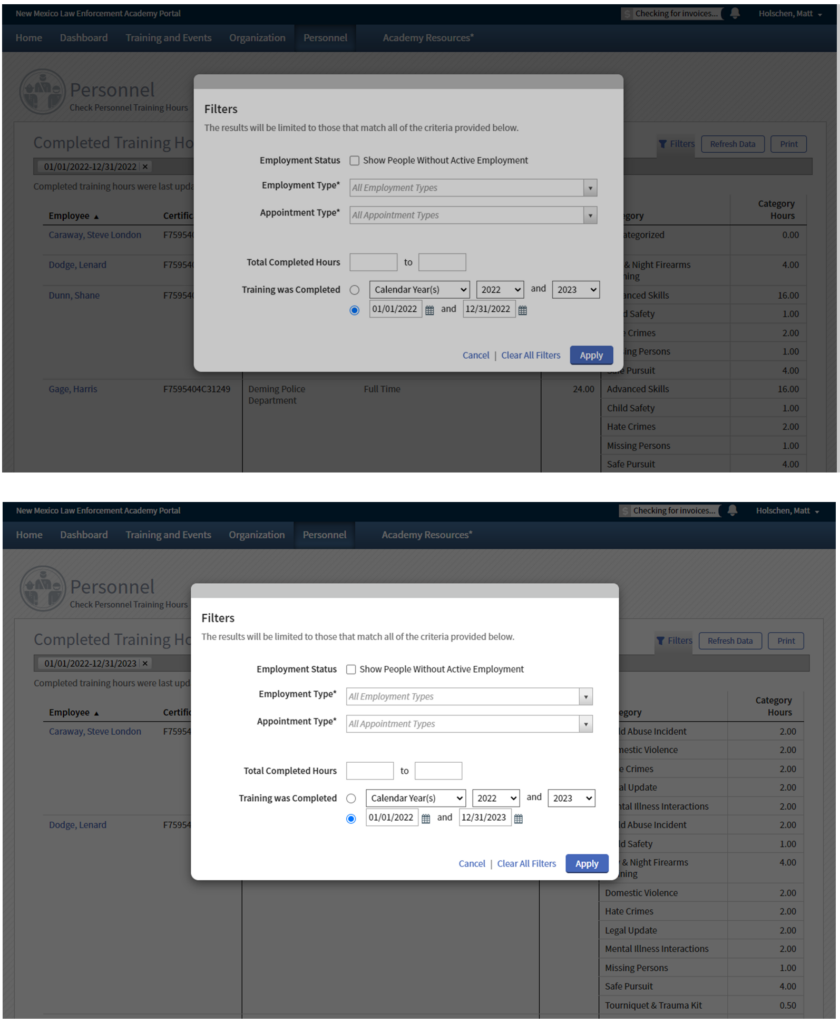 The LEA-84 form is dated for the overall Biennium Cycle (currently 2022-2023), but includes the annually mandated topics.
For this reason, agencies should submit an LEA-84 form EACH year of the cycle (for a total of 2 for the biennium).
The first will  ONLY be reporting the annual topics (usually the first or even-year of the cycle) – which only has the checkboxes marked for the highlighted topics that are shown in the screenshot below: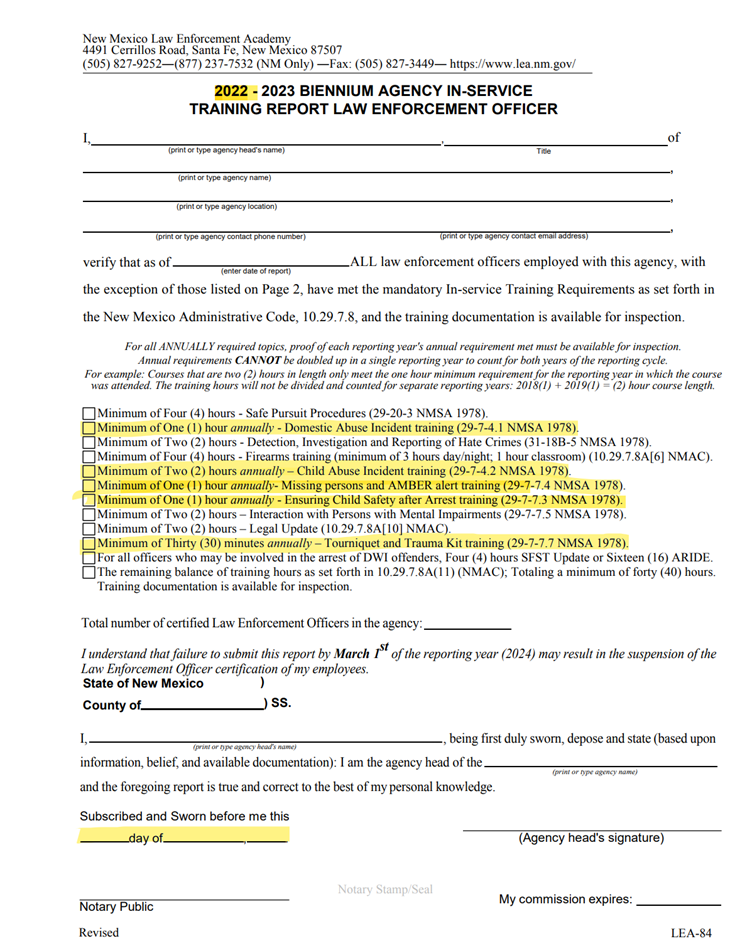 The second will include BOTH the remaining annual and all biannual topics (the odd year or final year of the biennnium cycle) – which has all checkboxes marked for the topics that are shown in the second screenshot below).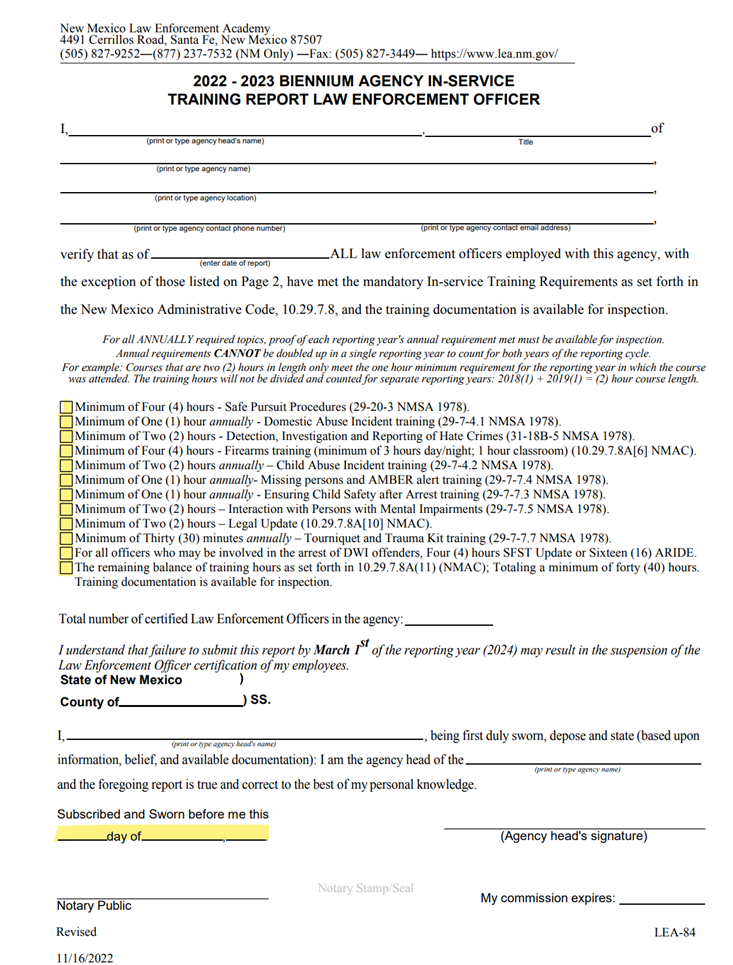 The NMLEA recommends that agencies report biennium compliance this way as it is the BEST way to ensure that compliance has been met and can be validated by the NMLEAB.
The statement in italics at the top-middle section of the form that states, "ALL supporting documentation is available for inspection at the reporting agency," is fulfilled if the training has been submitted through the Acadis Portal and approved by NMLEA staff after reviewing the uploaded rosters or course completion certificates attached to the submission. All original rosters or course completion certificates are mandated to be maintained by the instructor or individual student or their agency for a period as defined in the Functional Records Retention and Destruction Schedule (FRRDS) of the New Mexico Administrative Code (NMAC). The current citation for law enforcement training records is 1.21.2.943 NMAC.
The bottom Notarized Affidavit statement provides a date for us to understand which LEA-84 corresponds to which reporting year of submitted forms, should there be a question during compliance reporting review.
**These forms MUST be mailed to the NMLEA at the address listed on the top of the form NO LATER THAN March 1 of each reporting year (2022 was due 03/01/2023; and 2023 is due 03/01/2024).**
New Mexico Law Enforcement Academy Board Accredited In-Service Curriculum
The following training documents are provided for agencies to use to provide the required in-service training courses mandated by NM State Statute and/or NMLEA Board Rules. Each course has an accompanying NMLEAB Accreditation number.
Courses are developed to be taught in-person and only by NMLEAB certified instructors. Agencies or vendors may develop and submit their own curriculum for accreditation utilizing NMLEAB form LEAB-86. Attendance must be documented within 30-days of course date, using NMLEAB form LEAB-86b or by submission approval through the Acadis® Portal.
Annual In-Service Training Curriculum
Biennial In-Service Training Curriculum
TOPIC: Biennial Interaction with Persons with Mental Impairment
AUTHORITY:
A minimum of two (2) hours shall be in academy accredited interaction with persons with mental impairments training pursuant to 10.29.7.8A(9) NMAC.
RESOURCES:
Curriculum has been developed to meet the statutory requirements and Train-the-Trainer courses are being offered. All instructors who complete the Train -the-Trainer will be given the full curriculum to deliver the training to officers and telecommunicators state-wide. Please check the Advanced Training Schedule for dates and locations of classes.
TOPIC: Biennial Safe Pursuit
TOPIC: Biennial Hate Crimes
TOPIC: Biennial Legal Update
AUTHORITY:
A minimum of two (2) hours shall be in academy accredited legal update training to include changes in New Mexico State Statutes and recent state and federal case law pursuant to 10.29.7 NMAC.
RESOURCES:
TOPIC: Firearms Training
AUTHORITY:
Four (4) hours training of academy approved day and night firearms training on agency approved weapons systems pursuant to 10.29.7.8, § (A)(6), NMAC. Annual Requalification testing may not be used as training to meet the Biennial requirement.
RESOURCES:
Training curriculum for Law Enforcement Firearms is SECURITY SENSITIVE.
The Academy has drafted model curriculum for handgun to meet the 2022-2023 in-service training requirements. These NMLEAB accredited lesson plans are available to NMLEAB certified Firearms Instructors only. Firearms Instructors holding a current NMLEAB certification may e-mail the Deputy Director of Training to request a copy of firearms lesson plans.
***2022-2023 In-Service Semi-Auto Handgun NM22005 (4 hours)
As an alternative to the Academy courses, Departments may create their own courses to meet the 2022 – 2023 In-Service training requirements, however courses must be submitted to the Academy for accreditation to meet the in-service training requirements under 10.29.7 NMAC.
TOPIC: Optional 2022-2023 In-Service Training Topics
AUTHORITY:
Remaining hours shall be in maintenance or advanced areas from the following general topic areas pursuant to 10.29.7 NMAC.
Other approved advanced and specialized training/education or any maintenance training area which is designed to improve upon or add to the knowledge, skills, and abilities of the certified law enforcement officer.
RESOURCES:
***Training Opportunities (link to master training cal)